I got this question today on Yelp and perhaps this post will help others.
I am interested in hearing about the services you offer and setting up a consultation.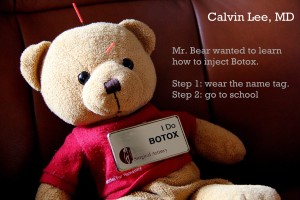 Here's my brief answer:
Thank you for your inquiry via a message on Yelp. We are closed for the weekend. But Feel free to call (209)-551-1888 on Monday- Friday 8am-5pm for more information about what we offer at Surgical Artistry. The Botox / Filler consultation with me (Dr. Calvin Lee) is free so you can hear more about what I may be able to do and customize information and treatment for you.  Heres a brief listing of what I do:
Threadlifts
Threadlifts for building collagen and lifting.  These are dissolving PDO threads.  Sometimes I call this Suture-Lifting
I do Botox
I do Botox for wrinkles, headaches, jaw pain, gummy smile, shrinking pores, sweat reduction, trigger points.
Juvederm Fillers
I do fillers for lips and wrinkles, acne scars.  I really enjoy working on lips and tear troughs as some of my favorite things to do.  I also sometimes use Radiesse and Restylane.  I do hand rejuvenation fillers and also tear trough off label fillers under the eyes.  I am fond of working with a cannula for cheek augmentation and for tear trough.  I also regularly do chin augmentation with fillers and jaw augmentation, temple filling (by the forehead), ear lobe wrinkle filling, nipple projection for inverted nipples.  I also fill various indentations in muscles or the body from various trauma/scar or from steroid injections.  I see fillers as a surgical implantation which needs to be done with surgical care.
Dermapen – Microneedling
I do dermapen microneedling to help with acne scars, and wrinkle reduction / prevention, and to help grow collagen.
Kybella
Kybella injections for double chin.  Permanent fat reduction in the FDA approved neck area.  Visit my Kybella website for more information.  I've done some off label Kybella for bra roll and knee area.
Chemical Peels
To help with collagen growth, brightening the skin, tightening, and wrinkle prevention.  I do the Obagi blue peel radiance and the blue peel chemical peel – both these peels are by Obagi.
Acupuncture
I do acupuncture for back pain, fertility, stress, and many other issues. There is a branch of acupuncture known as cosmetic acupuncture.  Actually threadlifts and dermapen are just extension of cosmetic acupuncture.
Vein procedures
I laser veins on the face, chest, and legs.  I have a laser and I also do cosmetic sclerotherapy – which are injections into the small veins.  On the face, the laser is my favorite modality, but on the legs, the injections of sclerotherapy is my favorite vein treatment method.  I also do ultra sound examinations of the greater saphenous vein and lesser saphenous veins to assess reflux.
Mole removal
I do cosmetic mole removal from various parts of the body using surgical excision, and I try for the smallest and least obvious scar.  I feel that surgical excision is usually best – rather than burning off a mole.
Trigger point deactivation
Trigger points are tender points in the muscle. I can do dry needling, acupuncture ah-shi, lidocaine/marcine injections
Steroid injections into over-active scars
Some scars are overactive with redness, itching, and have a raised character. I can inject a steroid solution into the scars to make them less "angry."
More
I actually do more items than what is listed on here, but this is a short description of what I can do.