What a start to 2015 – taking a 9 day break from Botox injections
A trip to New Zealand
We visited with a tour group – a bunch of students with teachers studying nature and how it affects our human bodies and lives – a relationship to energy healing such as acupuncture.
We visited both North and South Islands and we were there for about 7 days.
You can click on the pictures below to see the larger version of the picture.
Lessons
One of the most important parts of this trip was lessons and lectures about healing, health, purpose, and how it relates to observations in nature
Serious night time discussions and reflections.  Picture credit: 張書菁
New Zealand Sights starting with Christchurch
---
---
Mount Cook – my favorite part of the New Zealand trip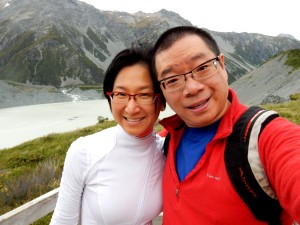 ---
---
Penguin Place Dunedin, New Zealand.  A place to see Yellow Eyed Penguins
Penguin Video which I took and placed on YouTube:
Wai-O-Tapu Hot Springs Video:
---
---
Acupuncture School in New Zealand