Botox for Crows feet now has a companion: Neotensil for under the eyes!
In addition to Botox around the side of the eyes, we now have Neotensil for under the eyes.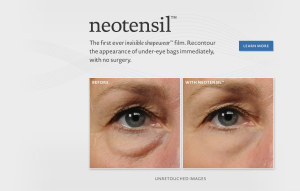 Info about Neotensil, now available in Modesto, California
The Neotensil info below was put together by Karla, who works in our Modesto Plastic Surgery Office:
Do we have anything nonsurgical that helps under the eyes?  Why yes we do, I'm glad you asked. We have a revolutionary new product called Neotensil.  Neotensil is great because it is a daily invisible film which shapes and tightens the bags and wrinkles under the eyes.  It is the only non-invasive, at-home procedure that reduces the appearance of under eye puffiness and wrinkles.  We saw the results for ourselves, and it's really impressive.  It's a great option for patients who are not interested in surgery, but would like eyes that look younger and refreshed.  Neotensil is exclusive to Obagi and doctor's offices.  It's only sold by physicians, so you will not find this product at Sephora or Ulta.  Finally, there is a non-surgical solution for the unwanted baggy eyes.  We are excited to be able to offer it to our patients.
How do you use it?  The application process takes about 5 min.  It's an easy two-step topical application that you can use every day or for special occasions.  You put the products on and it starts tightening after about ten minutes, and it keeps tightening for the first few hours.  So, if you have an upcoming important event, and you're worried about under eye puffiness, Neotensil will make you look even better in the matter of an hour!  It feels like liquid "Spanx" for your eyes.  The results last 16 hours and you just take it off with your makeup at the end of the day.
What does it do?  It is made with technology developed at MIT and Harvard.  They call it "shape-wear" – which lifts, smoothes, and tightens.  It not only helps reduce under eye puffiness, but it helps tighten the appearance of loose, sagging skin, reduces the appearance of wrinkles.  It also moisturizes up to 2x better than the leading over-the-counter cream, improving hydration.  While you have it on, it hydrates your under eyes and can help improve the hydration of your eyes over time.
How many applications come in the kit?  The kit comes with 50 applications, so it will last you about four months if you use it 3-4 times a week and almost two months if you use it every day.  When used once a week for special occasions, it could last a year.   The kit is $500 + tax.  When your eyes look good, it really brightens your whole face.
Can you wear your own concealer or make up over it?  Unfortunately not, customers are discouraged from wearing make-up under the eyes before or after the application.  Neotensil will improve the appearance of your under eyes but you cannot use your own makeup over it.  The Neotensil concealer has not been released, but check back with us.
How does it compare to Plastic Surgical Eyelid Surgery (blepharoplasty)?  Neotensil will not replace lower lid surgery, but rather is a therapy for those who are not ready for surgery or for some reason are not surgical candidates.
For more information about us or Neotensil:
Feel free to visit our Modesto Botox Home Page (www.InjectionArtistry.com).  On that page we have our contact information, please call us for more info!